T
hanks to an Emerging Artist Award from the
Central Minnesota Arts Board
(CMAB), Adam Hammer is headed back into the studio to begin recording his next CD, "Simple Songs," with a scheduled release in 2018.
Hammer was one of eight Central Minnesota artists to receive one of the $3,000 awards, which recognize and encourage outstanding artists in various stages of their careers. A panel of six arts professionals reviewed and scored each application individually. Applications with the highest average score were recommended to the CMAB directors for awards.
"This album is taking me back to basics with songs that have a simple structure – 'Simple Songs' – allowing listeners to connect with ease and providing a soundscape for storytelling," Hammer said. "While I refer to these songs as 'simple,' the writing process is challenging me as a songwriter. It is taking me out of my comfort zone – out of my standard style – and pushing me to write songs that are easy to listen to and that still keep my interest as a performer."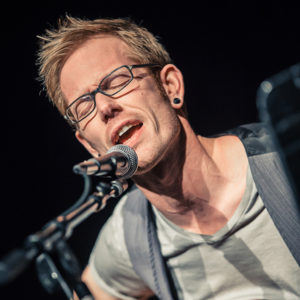 The inspiration behind "Simple Songs" comes from Hammer's musical upbringing. He learned music in the folk tradition; learning songs, chords and finding his voice at family gatherings following the lead of his mother, aunts and uncles.
"Most of the songs we played were based on three or four chords; they were simple, but they were impactful and memorable," Hammer said.
His musical upbringing also inspired the idea for the Common Folk Choir, which will be introduced with this album and at select concerts.
"Music has always been a community experience for me," he said. "Growing up, music was everywhere and everyone sang, whether they were good or not. The Common Folk Choir isn't about talent; it's about community and creating an experience for the listener as well as the singers."
Hammer's last full-length solo release, "Broken Like You," was released in 2012 and spent multiple weeks in 88.1 FM KVSC's Alternative 13 list. It continues to receive airplay on independent radio stations throughout the Midwest.
This award is made possible through a grant from the Central Minnesota Arts Board, thanks to funds provided by the McKnight Foundation.